CNA, Lead Concierge Caregiver
A native of Mississippi, Ann arrived age fourteen to the Judson School Scottsdale with a horse named Traveler. A faith-based upbringing began with primary education at Christ Episcopal School, Arcadia High School, and continued at Pepperdine University, Malibu, California, where she earned a Bachelor's Degree in Communications with a major in Advertising and Marketing.
After college, Ann pursued a career in advertising as a copywriter at Dailey Ads in Los Angeles, and later at Park Place Entertainment marketing division for casino resort properties including Grand Casinos, Hilton, Caesar's and Bally's.
The Land of Enchantment beckoned Ann, which led to an opportunity at K2 Branding Consultants Albuquerque and KB Home Sales in New Mexico.
She found her way back to Scottsdale after her mother's diagnosis with Alzheimer's.
Ann served as Concierge at Morningstar Senior Living, and has been setting a stellar example of exemplary concierge caregiving for years with The Perfect Companion.
"My grandmother set an example caring for family and neighbors in her rural community Forestdale, Mississippi.  After her passing, my grandfather came to live in my parent's home where I experienced a multi-generational family lifestyle.  Through all my endeavors in the senior care environment it has been my honor and my pleasure to know the most special people. Although my goal is to enrich the quality of daily life for my clients, the true gift is the sense of meaning and purpose these beloved individuals have given me."
As Maya Angelou stated, "People may forget what you did, but they will never forget the way you made them feel."
Ann's journey to caregiving, and the specific type of exceptional concierge care that is offered by The Perfect Companion, has been a dream fit for Ann.  Her energy, passion, intellect and professionalism have led to her becoming a leader and mentor to The Perfect Companion caregivers, and an inspiration to the staff and clients she touches daily.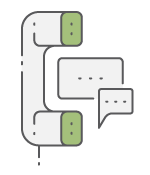 CONTACT US FOR AN APPOINTMENT
Or share the basics, and
we'll be in touch as soon as we can!