Director of Administration
Brenda is the "heartbeat" of The Perfect Companion's administrative operations.
She was raised and educated in Indiana, and came to The Perfect Companion with over a decade of experience in the senior services industry.  Brenda  has held senior leadership roles in senior care services and luxury senior living; specializing in Dementia care.
Prior to luxury senior services, Brenda worked for Big 3 automotive manufacturers and van conversion manufacturers. Her expertise spans across service, sales and sales management.  For 10 years, she managed sales and service responsibilities, overseeing 12 states and 30 sales people.
Brenda also owned and operated an automobile sales and finance business for 15 years. She served as the organization's Chief Financial Officer (CFO).
Brenda has always enjoyed staying active in the community, and has been notable for her volunteer work for a variety of organizations including:
Girl Scouts of the U.S.A. as a Leader and Mentor.
Big Brothers Big Sisters as a Big Sisters Volunteer
Church Volunteer (for over 30 years)
Methodist Woman's Association as its President
UMOM New Day Centers meal prep Volunteer
Hospice Volunteer
Ronald McDonald House Volunteer
Alzheimer's Association annual Walk Organizer
Brenda Hutchins is a shining light and invaluable asset to The Perfect Companion; serving our clients, our caregivers, our partners, and our community.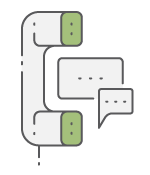 CONTACT US FOR AN APPOINTMENT
Or share the basics, and
we'll be in touch as soon as we can!