Debbi is a Licensed Speech Pathologist with over 30 years of experience. She graduated from Boston University with her BS in Speech and Language Pathology and Audiology with a minor in Psychology. Debbi went on to complete her MA in Speech Pathology from The Ohio State University. She has specialized in geriatric therapy throughout her entire career. Debbi has worked in home health and long-term care communities for the majority of her career as a Speech Pathologist. Debbi has always had a passion for working with older adults and brings with her over 30 years of expertise and knowledge.
Debbi knows the importance of living an active lifestyle in order to age optimally. She puts these beliefs into practice as she loves to workout and occasionally play a round of 18 holes on the golf course, in her free time. She also has a passion for giving back to her community. Debbi enjoys volunteering and took it a step further by starting the National Ovarian Cancer Coalition in Columbus, OH where she also organized their first fundraiser run. Debbi has many achievements but considers her 2 children to be her greatest achievement of all!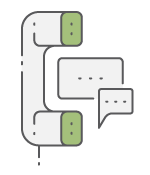 CONTACT US FOR AN APPOINTMENT
Or share the basics, and
we'll be in touch as soon as we can!