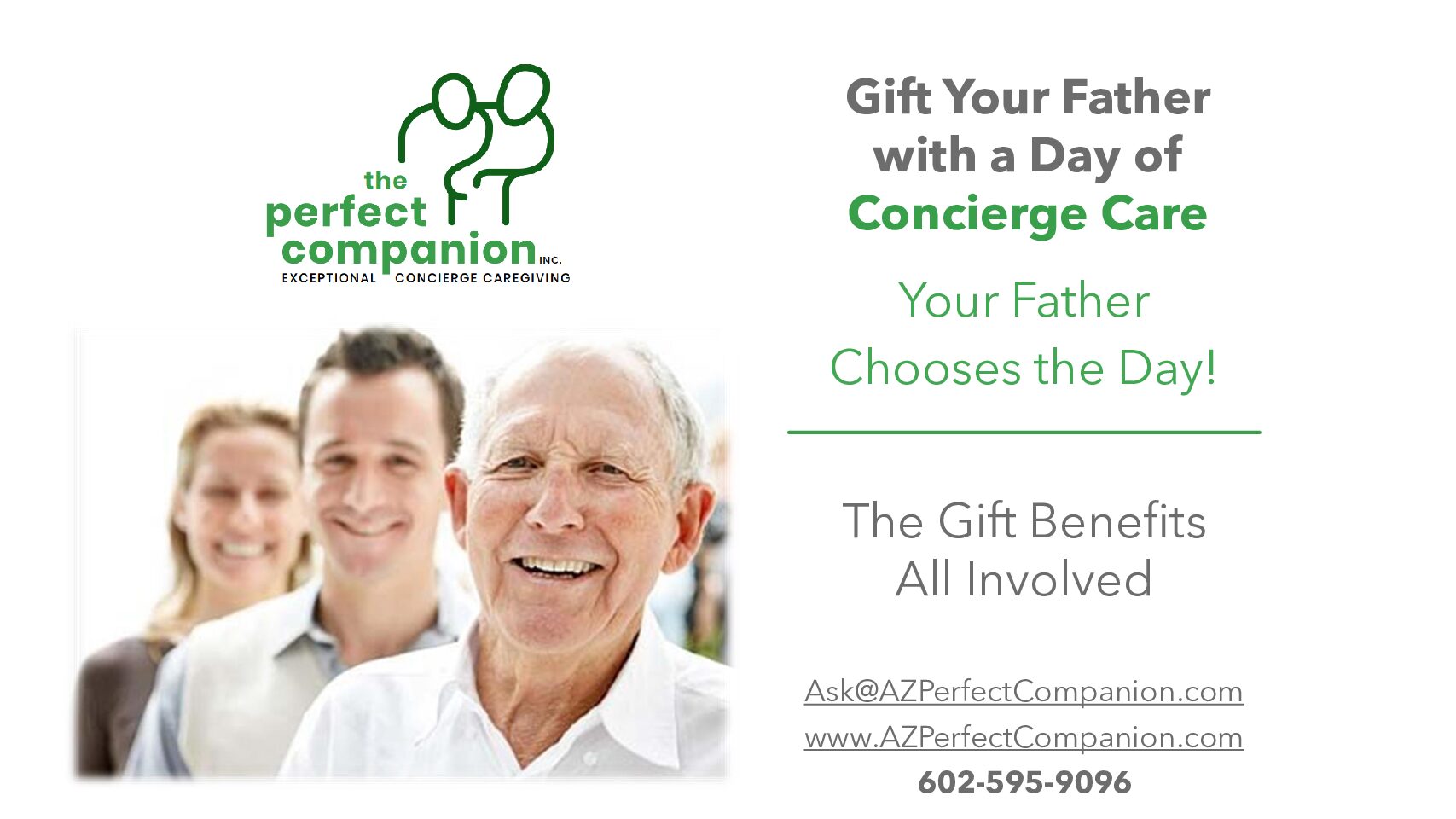 Perfect Gift Idea for Father's Day, or ANY DAY – A Day of Care (Exceptionally Safe and Joy-Creating Care!)
Unique gift idea for Father's Day for Seniors:)
This is an interesting idea! If you have aging parents and want to leverage Father's Day and give Dad a fun way of checking out what it's like to have an EXCEPTIONAL caregiver fawn over him and take special care of him for one day of his choice, now's the time!
You can present the gift to your Dad visually, and in a fun fashion, and we can set the date your Dad wants to feel like king for the day!
TPC's caregivers are extraordinary and will make a positive impact on your Dad (and Mom if there's a Mom around). TPC will be offering this for Father's Day and beyond too!
Enjoy a break from caregiving if that's you.
ESPECIALLY IN THIS STRANGE TIME OF SOCIAL ISOLATION, THIS TYPE OF SPECIALIZED AND PERSONALIZED CONCIERGE CARE IS ESSENTIAL AND BRINGS NEEDED JOY!
The Perfect Companion gets to know you and your family in a unique fashion, and matches you with the PERFECT caregiver of your choice!
THERE'S NO COMPANY OUT THERE THAT OFFERS THE PERFECT MATCHMAKING, EXCEPTIONAL CONCIERGE CARE AND SAFE SERVICE STANDARDS OF THE PERFECT COMPANION!
TPC Caregivers do anything and everything needed! They're well-trained to serve older adults, and in concierge care.
Light Housekeeping – indoor and outdoor, tidying, ironing, loving and caring for pets
Companionship-playing games, reading, tech support  :) :), organizing things, golfing, pickle ball, walking,  dancing, hiking, knitting, drawing, sculpting, sewing…you name it!
Personal Care – Shower or bathing assistance, facials, hair care, whatever's needed
Errands – Essential errands such as grocery shopping or picking up prescriptions (Outings are highly restricted to keep everyone safe from Covid-19!)
TPC caregivers are following strict protocols, are screened and tested. TPC is one of the very few caregiving companies allowed in luxury living communities in our finer communities in the Greater Phoenix Area.