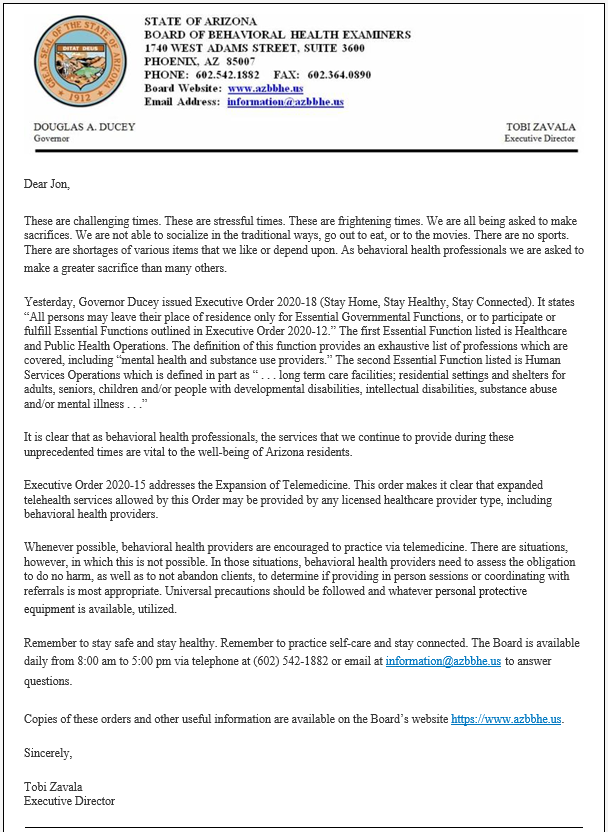 Board of Behavioral Health Just Deemed Jon Siegel Essential-Especially in Light of the Covid-19 Pandemic
While mental health has always been deemed essential and at the heart of Jon's founding of The Perfect Companion, his credentials as a licensed clinical psychotherapist is being put to very good use during the COVID-19 pandemic. Governor Doug Ducey's office and the Board of Behavioral Health Examiners officially recognizes Jon's specific qualifications on this front.
Where do you start when you are having psychological or physical challenges with aging parents?
It's been interesting watching Jon balance his clinical-based approach with non-medical homecare services; he definitely brings a unique approach and professional qualifications as a licensed clinical psychotherapist to senior in-home care and family advocacy. It's not easy being Jon or anyone on his support team. TPC manages some of the toughest cases when individual adults or families are in the midst of a psychotic crisis in the family, but Jon dives in with his passion to guide even the toughest of psychoses onto a path of safety and "as calm as can be expected" at home, or in the best choice of mental health facility that embraces the help of outside, non-medical yet specialized care providers like his.
The cases The Perfect Companion take on are not always "categorized" or previously diagnosed….and sometimes cases come to Jon previously-diagnosed incorrectly.
He's just known for his ability to navigate to the truth, calm all parties involved, and carve a path of least anxiety, depression and conflict, and do his best to provide the best approach to psycho-social and companion support that makes all the difference to the lives of everyone involved.
It's safe to say that anxiety is running at a historical high at the moment, and even the healthiest senior citizens being socially isolated can develop behavioral health issues that go un-noticed or that cause that senior to develop physical ailments that require medical attention at the worst time possible; while a deadly virus is spreading like wildfire. Decades of experience show us that simply providing non-medical companion care to a person or older couple living alone or independently can pro-actively help thwart avoidable turns-for-the-worse or irreparable disasters. Kasondra McCormick, the company's EVP Concierge Care Operations states, "It's always our deliberate intention to positively influence the safety and longevity of our clients because we're an integral part of their lives."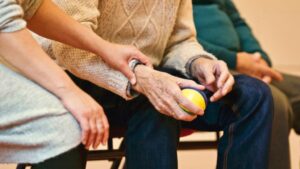 With that said, there really isn't any "clinical-based non-medical homecare concierge service" that we're aware of like Jon Siegel's The Perfect Companion!  One of our previous posts highlights this very challenge and the passion behind it: https://www.linkedin.com/feed/update/urn:li:activity:6650795433423704064/
We thought you'd appreciate knowing that there's such a support service in the greater Phoenix, Arizona area you can turn to that will not break the bank or break up family peace, health, and harmony. If you have an aging parent in need of psychological support and physical support, The Perfect Companion is the Greater Phoenix Arizona's navigator of choice.
TPC also provides in-home 24 hour care that does not require a stranger to live in your home. Jon and his team custom-design the best care plan based on their clinical assessment of your situation and they also provide the best possible match of caregivers who align with their clients' needs, condition, personal and professional interests and special requests.  We help everyone return to their lives with a sense of calm and trust, as well as enable as much independence and joy considering the circumstances.
602-595-9096  For questions or to schedule a free clinical assessment