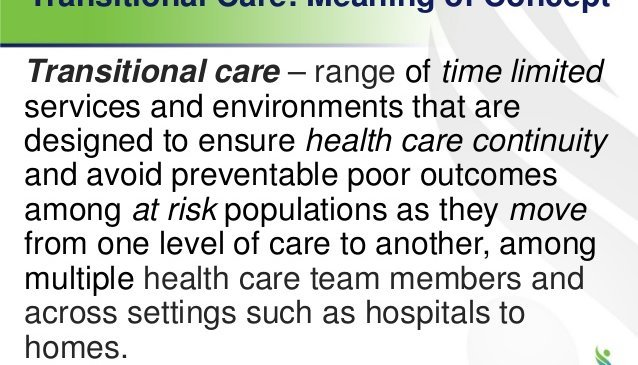 Transitional care-What is it?
Medicare is really emphasizing a holistic approach to healthcare going forward, with the goal in mind to help mitigate hospital re-admissions. A whole array of services are now available, many taken care of as a Medicare funded expense so that the care is not financially burdensome.
Here is a definition of transitional care from the web.
"Transitional care refers to the coordination and continuity of health care during a movement from one healthcare setting to either another or to home, called care transition, between health care practitioners and settings as their condition and care or needs change during the course of a chronic or acute illness."
An example would be someone who went to the hospital as a result of a fall where they broke their hip. They had the operation, were discharged to a rehab building to get the hip strong enough to go home. Upon discharge from the rehab back to the home perhaps the person lives alone, and cannot drive themselves to a doctors appointment. With help from transitional care organizations the patient could benefit from a mobile doctor to come to their home. Additionally they may require more physical therapy and occupational therapy to get back to their ADL's (activities of daily living).  If this is necessary a transitional care company can set an appointment with the patient to determine the resources for their continuity of care. Many transitional care organizations provide services all the way up to the end of life with hospice care.
www.azperfectcompanion.com